We're excited to announce that in March, we will introduce a new version of our app that is easier to work with and has new and updated features. In this article, we'll give you a quick glimpse at a few of the changes so you can know what to look forward to.
What Will Be the Biggest Changes?
The new intuitive user-friendly environment will create better flow, simplify the onboarding process, and make adjusting your settings a breeze. With all the changes you will be able to set up everything easily on your own, but our customer support will remain standing by if you need assistance.
New Design and User Interface
The new version will feature a simplified tile design that gives you more space to work with and to see everything you need right at your fingertips. Improved store list navigation will make it a lot easier for you to edit and find out the important information for each store.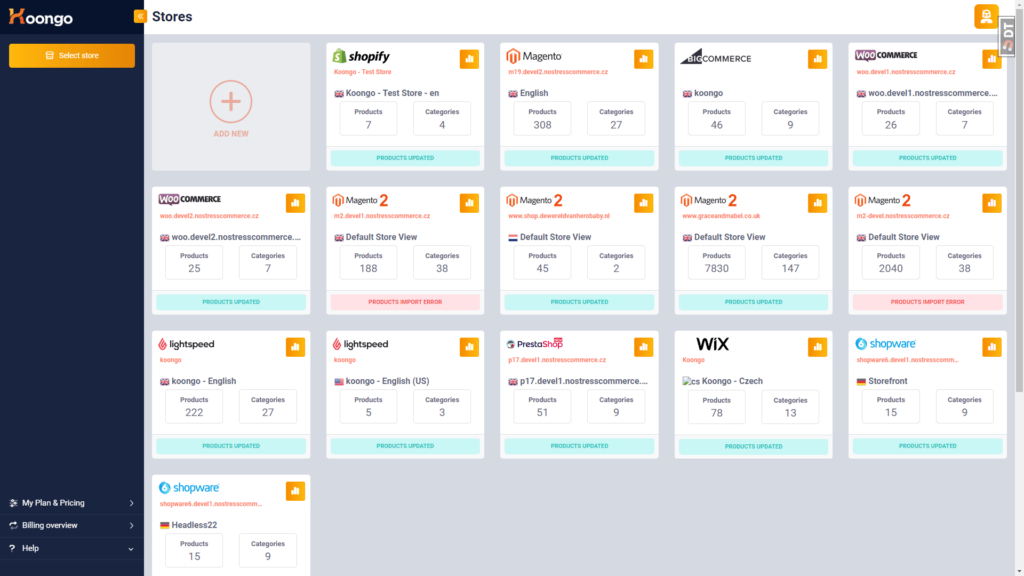 The Biggest Blockbuster: Macro Editor
Macro Editor is an important tool that will help you easily optimize your data feed.
It will allow you to adjust attribute values according to channel specifications or your needs.
Do you need to uplift prices, define shipping costs, or adjust taxes or exchange rates? With the new Macro Editor, you can define all the mathematical operations and settings easily on your own.
Upgraded Texts and Description Tools
Product attributes usually contain various texts, which need to be modified, extracted, or replaced in order to accomplish tricky channel feed specifications. We have designed the brand new Macro Editor to help you solve these problems with ease. This intuitive tool offers various sets of text operations to solve even the most complex problems related to text and description modifications.
Updated Product Filter
The new intuitive and powerful product filter will allow you to use your store attributes to categorize your products. This means you will be able to separate your merchandise based on what the data does or doesn't contains or even use filters to narrow your choices down even more. Therefore, you can basically choose products for particular marketplaces and channels according to your business intention.
Ready to Try the New Koongo?
As you can see, we are making some changes but we're keeping all of the good stuff. You'll be able to find all the new tutorials soon at help.koongo.com.
Koongo is Your Key to Marketplaces, allowing easy and affordable marketplace integration and data feed management. It helps you list products on marketplaces and advertising channels to reach new customers & grow your business. Register for your free trial now and start selling on marketplaces easier than ever.
Continue reading →