Zalando is a leading online fashion retailer that was founded in 2008 as an online shoe shop in Berlin. By 2010, it had become a market leader in online shoes and had added a broad array of fashion items to its platform. Today, Zalando is a top platform for fashion and lifestyle that delivers to customers in 23 European countries. Their fashion store features a wide assortment of more than 5,800 brands. Zalando reported over 7.4B visits and more than 48 million active customers in 2022.
In this article, we'll explain everything you need to know before you start selling on the Zalando Connected Retail.
What are your Zalando partnership options?
Zalando has three programs that it offers:
Zalando Connected Retail – Physical stores are connected to the Zalando platform to sell fashion directly to consumers. This is only used for selling in the shop's country of origin. Koongo supports this option.
Zalando Partner program – Partners connect to the Zalando platform to sell directly to consumers. Koongo also supports the Zalando Partner program.
Wholesale – Zalando buys from suppliers, stores in warehouses, and sells to customers. Koongo does not support this option.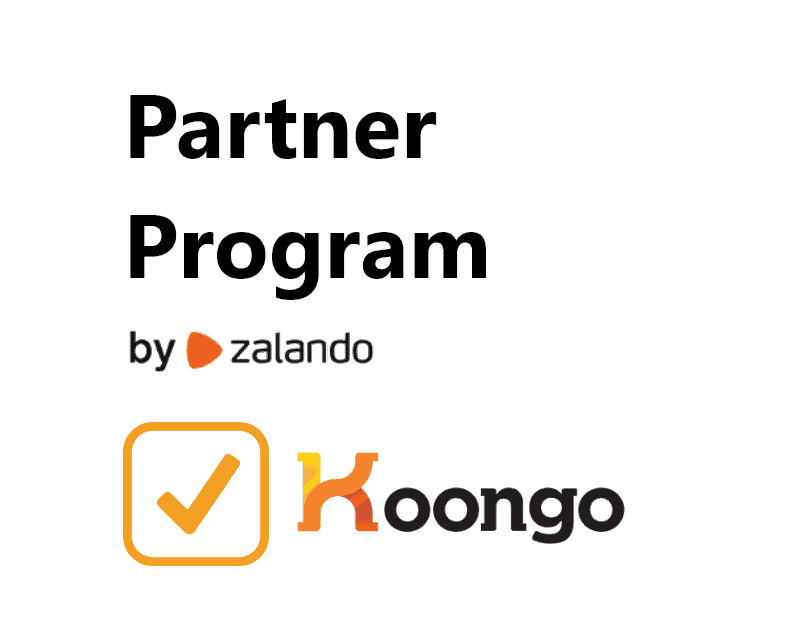 What is Connected Retail?
Connecting online and physical retail stores has been important for a long time in the fashion industry. During the coronavirus pandemic, demand increased even more. Connected Retail is a program that enables brick-and-mortar stores to serve customers on the Zalando platform.
Connected Retail helps Zalando partners increase their fashion sales by forwarding customer orders to their stores. Participating stores ship items specified in the order and record the corresponding revenues and profits.
Today, Connected Retail is available in 13 countries for all retailers and brands that have one or more physical stores.
Germany
Netherlands
Poland
Sweden
Spain
Finland
Norway
Denmark
Austria
France
Belgium
Switzerland
Italy
This program includes almost 7,000 active stores that sell to millions of Zalando customers online.
What are the main benefits for brands and retailers?
According to Zalando, some of its best-performing stores increase their productivity by up to 60% per square meter. In addition, the number of orders for participating retail partners continues to increase significantly, on average over 20 orders per store per day.
The model is risk-free for participating stores, as all costs are variable. A commission is only paid for completed and non-returned transactions. Stores fully control article prices, capacity (i.e., number of orders per day), and the fashion selection sold on Zalando at all times. Everything digital, including content, customer care, payment operations, platform, and infrastructure, is taken care of by Zalando. If needed, partners can also book additional marketing via Zalando's 360-degree marketing unit ZMS (Zalando Marketing Services).
Zalando is breaking the barriers between online and physical retail stores because they see great opportunities for stores, consumers, and Zalando itself.
The main Zalando benefits for retailers are:
Online presence
Wider customer base
Profitable growth
Faster stock turnover
Reduced risk
Business continuity
Digital evolution
Requirements to join Connected Retail
Onboarding store partners to the Zalando platform through Connected Retail is simple. Sellers looking to start using the Zalando marketplace must fulfill the following requirements:
Must have an online store.
Must have their business registered.
Have their products in digital under at least one of the following categories (clothing, shoes, sportswear, and equipment or accessories).
Offer free delivery and free returns with a 100 days return policy.
The seller must also provide price and stock updates regularly – e.g., through the CSV product file Zalando Rest API upload.
Koongo can easily handle this requirement with an automatic Zalando Inventory feed submission. For more information, please check the Zalando integration manual.
What do I have to do?
The roles are clearly defined in the Connected Retail program.
You take care of the following:
Packing and shipment orders
Delivery costs
Handling returns
Commission
Zalando's role is to take care of the following:
Marketing and traffic
Customer care
Payment
Fraud check and risk
Order management system
Integration and account management
What are the costs for selling on Connected Retail?
All costs are variable. The commission is only paid for completed and non-returned transactions. Stores set their article prices. Zalando's commission scheme usually ranges between 5% and 25% depending on the product category and price point.
How to join Connected Retail
To get started, stores go through a simple onboarding process. It enables the Zalando platform to see store stock levels. Once connected, shop assistants can log in to the Connected Retail tool via a standard web browser to see orders from Zalando customers. The store's staff picks and packs the order, and the system automatically notifies the carrier and prints delivery documents. Then the store staff simply hands the labeled parcel to the carrier who delivers it to the customer. The customer can either keep their order or return it via the carrier.
Customers can also return the parcel within the merchant store. The processing of orders is straightforward and does not require any technical knowledge. In the store, transactions are booked in the Point-of-Sale system, just like a typical transaction in your store.
Koongo's automatic order synchronization makes it easy
To make things even simpler, Koongo has implemented the Zalando order synchronization connection. This allows your Zalando orders to be automatically imported to your store within minutes after they are created. You can then process Zalando orders just like your regular ones. The orders can be imported into your information system or sent to your logistics partners. Koongo's automatic order management reduces your workload and saves you time.
For more information, please check the Zalando order sync manual.
Want to get on board?
If you are interested in joining the Zalando platform with your store(s) via Connected Retail, reach out to connected.retail@zalando.de.
You can also contact Koongo customer care. We'll be happy to help you with the Zalando Retail integration.
Continue reading →