Would you like to sell your product on China market? Try Azoya!
Azoya is a leading turnkey e-commerce solution and service provider dedicated to opening up the market in China to overseas retailers. It powers global retailers and brands with direct-to-consumer commerce solutions and services to help them to grow in China. With extensive experience in cross-border e-commerce, Azoya has developed multiple e-commerce services to help retailers and brands capture sales in this booming market. You can check its websites here.
This marketplace's key focus categories are fashion, beauty, and wellness.
Koongo is happy to announce a new strategic partnership with this channel. It will enable Koongo's customers to sell in China without extra operational work.
How does Azoya work?
Azoya partners with brands & retailers in B2B and B2C models, helping merchants grow their business in China at a different scale.
For a B2B partnership, Azoya sells your products from its extensive retail network in China and synchronizes the orders to your system for fulfillment. It'll manage the whole process of China inbound logistics, and it's hassle-free for merchants. Azoya's proprietary retail network owns over 5 million registered customers and over 80 million Chinese affiliate customers. B2B partnership helps merchants grow in China with no upfront investment, fixed fee, or hidden cost.

For B2C partnerships, it offers a unique TECH + SERVICE approach to help merchants set up a truly localized DTC business in China. Azoya has a proprietary cloud and e-commerce system solution that allow retailers and brands to launch their China business with comprehensive system functions quickly. The company is also an award-winning marketing & e-commerce operation partner to help merchants win in the Chinese marketplaces.
This SaaS system offers:
Set up a dedicated China CN website, mini-programs, and APPs
Deep integration with local affiliate partners
Complete E-commerce functions
China Logistics Solutions
China Payment Solutions
Data analytics (in-house BI and 3rd party integrations)
Marketing integrations
CRM and China SCRM solution
Azoya links product information, customer data, price, order, inventory, logistics tracking, and business performance data across different sales channels. So, it's providing robust solutions to support cross-border importing into China.
For more details about Azoya – Koongo partnership, check the Azoya Dropship Partnership.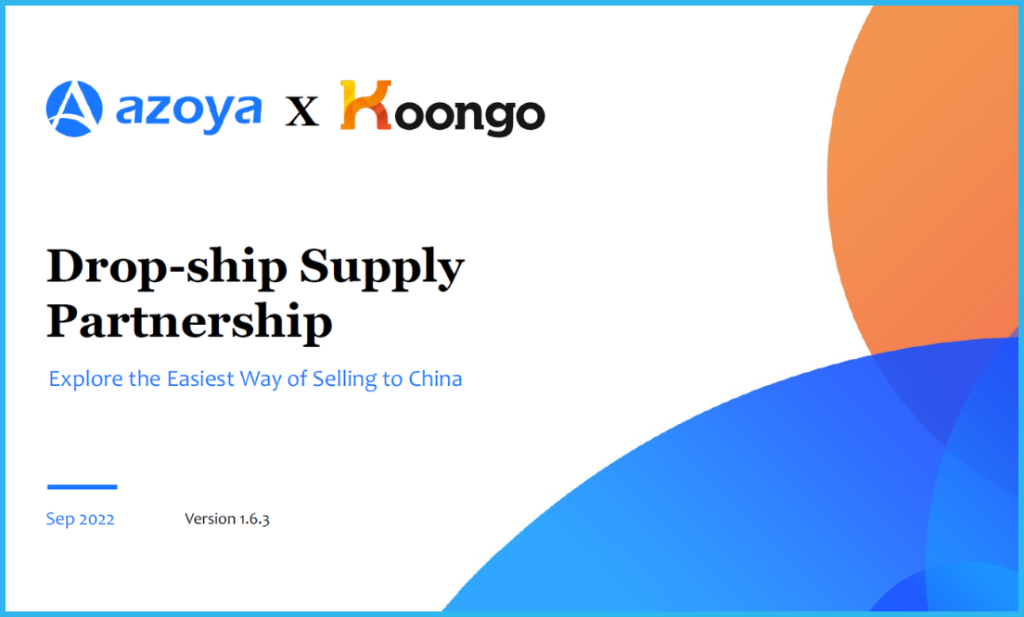 What are the supported online marketplaces?
Currently, Azoya SaaS supports merchants to sync products to dozens of sales channels (domestic & cross-border) in China, including and not limited to:
WeChat Mini-program
Little Red Book
SECOO
VIP SHOP
About Koongo
Connecting your store to an online marketplace can be complicated due to specific product data and stock requirements. As a result, you might struggle to list your products on marketplaces and reach new customers.
Koongo is here to help you with the whole integration process, allowing easy and affordable marketplace connection. Koongo's goal is simple, to give you all the necessary tools to easily list your products on marketplaces. So, you'll reach new customers, get more orders and grow your business.
Koongo is an e-commerce automation solution that supports various e-commerce platform integrations such as Shopify, Shopware, Magento, or WooCommerce. You can find all Koongo-supported platforms here.
How is Azoya integrated with Koongo?
Azoya channel is integrated into Koongo over API. So, you simply create a CSV product feed with your data information and submit the feed to your Azoya account. Then, Koongo updates your product data on the marketplace regularly.
Order management is under development in Koongo now. Once ready, Koongo can transfer your Azoya orders into your store automatically.
Want to get on board?
Are you interested in joining Azoya? Then, fill out a registration form or contact Koongo customer care. We'll be happy to introduce you to Azoya and help you with the integration.
Continue reading →