Stylefruits integration manual
The Stylefruits product feed is used to upload product data to the Stylefruits channel.
1. Register on Stylefruits
Open an account with Stylefruits channel
2. Create Stylefruits feed
Add the Stylefruits feed to your profile grid. For more details please check the manual below:
3. Set the Stylefruits connection up
Please contact the Stylefruits support team and send the Stylefruits feed URL link for review.
Tracking Code Integration
The stylefruits tracking code has to be integrated on the final page of your checkout process. The code has to be generated dynamically for every order. Stylefruits will send you your personal tracking code after your product data feed has been successfully integrated.
Example Code: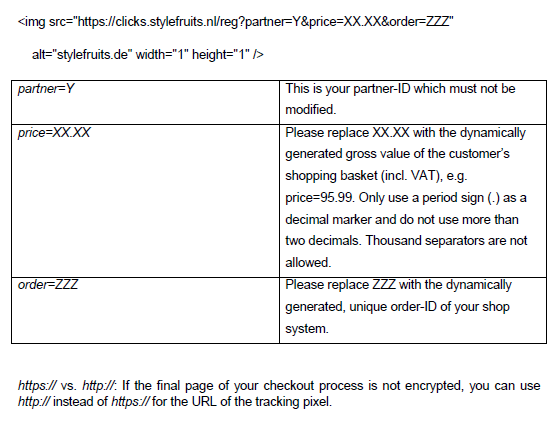 For any questions regarding product data specifications or tracking code integration, please contact:
Nadine MorsTel.: +49 (0)89 540 412 916Email: nadine.mors@stylefruits.de
In case you need any assistance please contact us at support@koongo.com. We'll guide you through the Stylefruits integration process.
Channel setup assistance
Do you struggle with a channel setup? Let us know at support@koongo.com. We'll be happy to help you