About Google Product reviews
Product Ratings show star ratings on both Shopping ads and the Google Shopping property. These ratings help shoppers with their purchase decisions, driving more qualified shoppers to your product pages. For more information please visit About Product Ratings.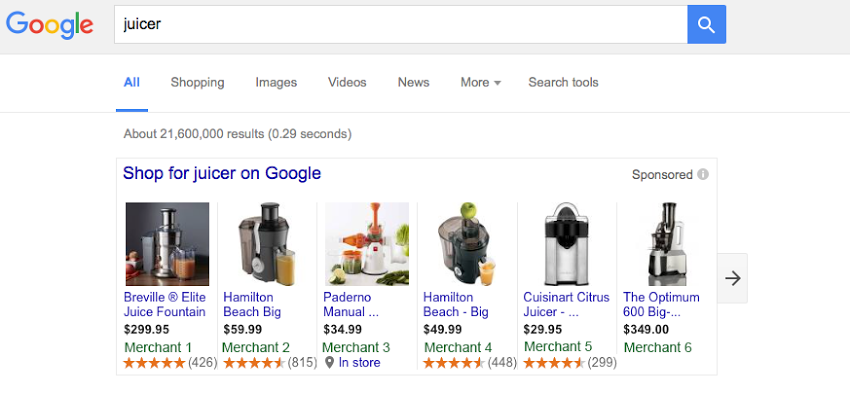 Google Product Ratings available in Koongo store
You can purchase the Google Product Ratings feed for your Magento shopping platform in the Koongo store.
The Google Product Review feed is available for Koongo Connector for Magento 1. The version 6.7.0.0 is required for the proper functionality of the Google Product Ratings feed. Koongo is not a Google Product Ratings aggregator, the customers are required to upload the feed into their Google Merchant Center by themselves.
Prerequisites for participation in Google Product Ratings
To participate in the Product Ratings program , you must have a minimum of 50 reviews across all of your products. A product must have at least 3 reviews for star ratings to show on Shopping Ads, though products with fewer than 3 reviews are eligible to show star ratings on the Shopping property.
Any review provided by the merchants is subject to a validation by the Google team. They must respect several conditions otherwise they will be deleted from the feed.
A Google product reviews feed must:
include all reviews of the merchant and be updated at least on monthly basis
adhere to content policies
be of high quality
be collected and owned by merchants
For further details please check Program policies.
Important:
Since the acceptance process depends on the content of the merchant product reviews, Koongo is not able to guarantee that the Google Product Ratings feed will be accepted by the Google team.
Sign up for Product Ratings
Once you've confirmed your eligibility to participate in Product Ratings program, complete and submit the Product Ratings interest form. The Google team will review your submission and contact you within a week.
Create your Product Ratings feed
Simply create a new export profile using Google Product Ratings feed. Here you can find the Export Profile Setup documentation.
In case you need any assistance please contact us at support@koongo.com.
Channel setup assistance
Do you struggle with a channel setup? Let us know at support@koongo.com. We'll be happy to help you